Radio Caroline Annual Fundraiser
Join us on Friday, August 11th for our Four Day Annual Fundraiser, and get your hands on this great limited edition POWERED BY THE SUN teeshirt.
The teeshirt is a tribute to you, our supporters, who contributed to the cost of the solar panels in our fundraiser last year, which enabled the station to go green earlier this year. It is also a tribute to MV Ross Revenge, which will celebrate on August 20th the 40th anniversary of the first official broadcast of Radio Caroline from the ship.
The teeshirt features the words, POWERED BY THE SUN, SWEET CAROLINE, 648 AM. You can hear the words sung on air in our new jingle, which is inspired by the words of the jingle which we have played since the 1970s.
Our fundraiser will run from Friday, August 11th on Radio Caroline and Caroline Flashback until midnight, UK time, on Monday, August 14th (a famous day in Caroline's history), and on Radio Caroline North (online and on 648 AM and 1368 AM), live from MV Ross Revenge, from August 11th until closedown on Sunday, August 13th.
You will be able to receive the teeshirt if you make a one-off donation of £30.00 or more, or if you join the Radio Caroline Support Group for a minimum monthly donation of £7.50, cancellable at any time.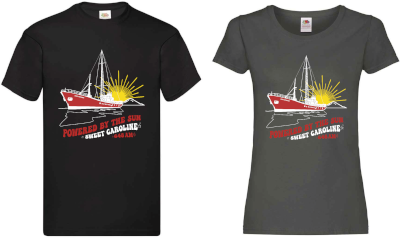 The teeshirt is available in a choice of colours, black or dark grey. For the first time, it will also be available in a ladies fit, featuring a scooped neck.
If you join the RCSG by monthly donation, you will also receive immediately by email our July Quarterly Newsletter, and all future editions until you may choose to terminate your contribution. The July edition features 14 exclusive articles about Radio Caroline, past, present and future, including an extensive article looking back at the re-launch of Radio Caroline from MV Ross Revenge 40 years ago.
The teeshirt will not be made available before or after the Fundraiser, and so, in order to receive it, you must make your donation, or join the RCSG, on the Radio Caroline website no earlier than Friday, August 11th and before midnight, UK time, on Monday, August 14th.
The donation button will go live on our website early on Friday, August 11th.
One half of the proceeds of the fundraiser will be contributed to our Ross Revenge Charity to raise funds to put the ship into dry dock in order to carry out essential repairs, and the other half will be allocated to maintain and, where appropriate, expand the operation of the radio station's three channels.
We are hoping for another successful fundraiser, as this is the largest single source of funds that we have to keep the radio station going for another year, and we need as much additional funding as possible to contribute to our charity appeal to keep MV Ross Revenge afloat.
We can only do this with your support.
You will be able to choose not to receive the teeshirt, if you prefer, and donations of any amount will always be gratefully received.
The teeshirts this year will be mailed out from Northern Ireland in accordance with the NI Protocol, and they will therefore be made available to all supporters worldwide, including the many of you resident in the EU. We are advised that the teeshirt should not attract customs duty in the EU, but this is of course dependent on local EU postal services complying with the Protocol.
We hope that you will join us for this important fundraising event, including some great Caroline presenters and music throughout the four days.
Best regards,
Radio Caroline
"For no man will ever forget Monday, August the 14th, Nineteen Hundred and Sixty Seven", Johnnie Walker, Man's Fight for Freedom (October, 1967).
RCSG https://www.radiocaroline.co.uk/#support_group.html
Radio Caroline via Ydun Ritz (2023-08-07)